Quick reads...
David's 11 Money Tips to Start Living Rich Today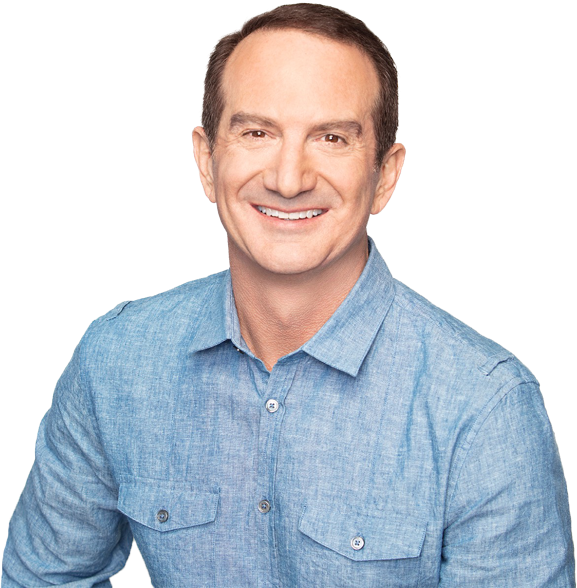 Hi there, and thanks for choosing to start today!
I know it can be exciting (and sometimes scary) to start on a new path — but, I promise you, the decision to take control of your finances today will help you LIVE RICH NOW.
Imagine how great it will feel to know you have finally taken smart action steps to deal with your money. 
To start building the right foundational money habits, I've compiled a list of 11 QUICK MONEY MOVES you can make right now to take control. Focus on these things and you'll be well on your way to living a rich life.
1. Open an emergency savings account
Why you should do this
Like my grandma Rose said when I was a kid, "when the going gets tough, you want cash." Cash is king. Cash protects you in bad times and lets you take advantage of opportunities in good times. The time to build an emergency account is before you need it. My recommendation is to contribute to your rainy day fund automatically, until you have at least six months' worth of expenses saved. More can be even better.
Where you can get help
Now that you're committed to building an emergency fund, where do you stash those savings? For starters, it's smart to keep your emergency money separate from your checking account. When your spending money and emergency money are in the same place, it's too easy to dip into the emergency money to cover monthly expenses. Plus, if it's sitting in your checking or savings account, it's probably earning virtually zero interest.
Interest rates aren't great right now, even for high-yield savings accounts, but you'll still earn way more than the national average interest rate (0.05% APY) if you use a savings account through an online bank. There's Synchrony, which is currently offering a rate of 0.55%, or 11 times the national average, and Marcus by Goldman Sachs (the consumer arm of the storied investment bank) is offering 0.50% APY. That's 10 times the national average.
Note that APYs listed are current as of the time of publication and may fluctuate.
2. Track your money
Why you should do this
To make good money decisions, you need to know what's coming in, what's going out and what's leftover. At the end of the day, it's not what you make that determines if you will be financially free — rather, it's what you keep of what you make that matters. To keep more of what you make, you have to know where your money is going.
Where you can get help
The easiest way to track your spending is to track it automatically. Online services like Personal Capital and Mint can make the process easy — you connect your accounts and the app will provide you with reports on your spending, assets, liabilities and net worth. These apps can also help you catch fraud faster and avoid late payments (if you set up reminders on your bills and credit card payments). I have used Mint for over a decade, but my editor swears by Personal Capital.
In general, I'm not a fan of budgets because I truly believe they're not effective. However, using an app like Personal Capital for its expense tracking feature can be helpful if tracking on your own is too complicated.
3. Make saving and investing automatic
Why you should do this
You know you need to save and invest your money. Consistent investing is essential if you want to build lasting wealth. The simplest way to make investing a habit is to put it on autopilot — meaning, have money automatically taken out of your paycheck or checking account and deposited into your investment account, where it will compound over time.
Where you can get help
Investing doesn't have to be as complex as you may think it is. In fact, you can get started today with just a couple of bucks.
Micro-investing apps like Acorns makes saving and investing incredibly easy. Acorns allows you to set up a diversified portfolio and have money automatically directed there each month from your checking or savings account. It's so easy that anyone can do it. I personally invested in this company because I love how easy they make it to save for the future. You can use these types of apps to save for big goals, like retirement or a home, or smaller goals, like your next vacation.  
There's more out there than just Acorns. You can also use robo-advisors like Betterment or Wealthfront to automate your savings and investing plan. Check out my other favorite robo-advisors.
4. Know and monitor your credit score
Why you should do this
Lenders pull your credit score before they will lend you money and based on what they find, they decide if they will lend you money and what interest rate they will charge you.
A good credit score can make it easier to get credit (credit cards, car loans, student loans, mortgage loans, etc.) and the cost of borrowing money will be much cheaper. A score above 700 points, for example, can help you save thousands of dollars on your loans annually. Over the life of a mortgage, a good credit score can help you save six figures and even retire early. This is a huge deal. You need to know your credit score and protect it.
Where you can get help
Most credit card issuers provide credit scores to their customers for free. Log on to your credit card's site to find yours — if you can't find it, call the company and ask. You can also check with your bank or loan company. Your score may be on your bank or loan statement, or you may be able to find it online by logging into your account.
And you can always pull your credit score at MyFICO. Most top lenders, 90%, use this score to evaluate you. You can buy a one-time report online. I recommend you get the report that covers all three major credit bureaus: Equifax, Experian and TransUnion. It'll cost about $60. Next, go get your free Vantage Score (VantageScore is another company, like FICO, that provides credit scores). I recommend you review them all, closely.
You can also sign up for a monthly service through MyFICO that will monitor and protect your credit. The basic subscription plan covers just one of the major credit bureaus and costs $20 a month, while the advanced plan covers all three and costs $30 a month.
Is it worth it to pay for the monthly service? Unfortunately, with the extraordinary amount of credit fraud, it probably is worth the cost for the peace of mind, especially if you're about to apply for a home loan or refinance. 
Check out my top recommendations for credit monitoring companies.
5. Check your credit report
Why you should do this
While your credit score is a good snapshot of your financial standing, your credit report is much more detailed and breaks down what is actually affecting your score. A credit report tells lenders if you have a history of late payments, are using too much credit (as a rule of thumb, you don't want to use more than 30% of your available credit on any card) or have any other suspicious financial activity.
All three credit bureaus impact your credit report, which is why you need to pull all three of them annually. It is critical you make sure there are no mistakes on these reports, as they can devastate your credit score and cost you a fortune in higher interest payments. By law, you're entitled to one truly free credit report from each credit bureau once per year. Right now, during the Covid-19 pandemic, you're actually entitled to a free report every week, so you have no excuse not to check up on your credit.
Where you can get help
To get your free credit report, go to www.annualcreditreport.com (this is the only true place to get this free). 
If you see fraudulent activity in your report, or are worried about it, as I mentioned above, credit monitoring services do a great job of notifying you of any suspicious activity. In some cases, they even will cover certain costs of repairing your credit or online identity.
6. Get a will
Why you should do this
When you don't have a will, you're letting the government decide where your life's work, wealth and stuff goes (maybe even your kids and pets). Why would you do that? Don't be among the 60% of people that don't have a will in place. Please, for your loved ones, get a will done.
And don't procrastinate just because you're young and you don't think you need to do this. You need to. Trust me, you'll feel good when you get this major "financial to do" off your list.
Where you can get help
Wills have traditionally been drafted in person with a lawyer, but over the last 20 years, a number of online will preparation services have been gaining popularity. Both paid and free services like LegalZoom and Rocket Lawyer allow you to create a will by answering a series of questions about your finances and personal circumstances and then export a finished legal document. With a relatively simple estate, you can prepare a draft in about 10 minutes.
Check out my full guide to making a will online.
And remember, you can always hire an attorney later to review it or do a new one if your situation becomes more complicated.
See my top recommendations for will and testament companies.
7. Buy a term life insurance policy to protect your family
Why you should do this
If you have anyone you love (a partner, wife, husband, child or children) dependent on your income, then you need to buy an insurance policy to protect them financially in the event of your death and loss of income. The average age of widowhood is 59, according to the U.S. Census bureau, while the average lifespan of a human is 79. 80% of men die married and 80% of women die widowed. Stop and let that sink in.
I recommend you keep this super simple if this is new to you and buy a $500,000 to $1 million dollar term policy. Term insurance is the cheapest type of insurance you can get because it only pays off if you die in a set period of time (say, a 20-year term). You buy this type of insurance as a protection plan – and depending on your age and health, it can be incredibly affordable.
I recommend you get a level term policy, which will lock the cost of the premium for a set period of time. Specifically, go for a 20-year policy to cover your loved ones if you have kids. I personally have a policy like this.
Where you can get help
The easiest way to get started is to compare quotes from highly rated life insurance companies.
Not sure where to start? View my top recommendations for life insurance companies.
8. Refinance your mortgage
Why you should do this
Right now, interest rates are the lowest we have seen in decades. There are nearly 13 million people who could save money right now by refinancing their home, according to mortgage analytics company Black Knight. The average savings for these people (and maybe you!) is approximately $260 a month. That's free money from making one simple decision.
If you have a loan right now and you can lower the rate by 0.5% or more and you plan to be in this home for more than three years, I would strongly encourage you to refinance. You can run the math on to see if this makes sense and how much you could save using this calculator:
I can tell you this: On a 30-year mortgage, if your balance is over $250,000, there's a good chance you could save over $50,000 during the life of your loan and potentially six figures! Or, you could refinance your 30-year loan to a 15-year mortgage and be debt free and able to retire sooner. It's truly a no-brainer. That said, it's getting tougher to refinance. Banks are swamped with business and many are also looking for a high credit score. Now is the time to act.
Where you can get help
When refinancing, I suggest shopping around and getting the banks to compete for your business. There are thousands of dollars at stake, so make lenders fight over you. Be transparent. Let the banks know you're shopping around and that you want to act quickly. This forces them to give you a competitive rate or risk missing out on your business.
Check out my top recommendations for mortgage refinance companies.
9. Refinance your student loans
Why you should do this
Student loans are a huge bummer, to say the least. They can feel like a financial weight around your neck, and anything you can do to get the cost of them down is positive. Again, because of the historically low interest rates right now, this is an unprecedented time to really dig into your student loans if you have any and look into refinancing options.
Just to be clear on this: I'm talking truly refinancing the debt — not asking your lender to give you an interest-free period (only to have that interest tacked on the back). Student loans are super complicated because there are so many types, from government student loans to private student loans. Your ability to refinance and the rate you can get will also depend on your credit history and employment.
Where you can get help
Many great companies offer student loan refinancing. I suggest you view my top recommended student loan refi companies and compare three to four lenders to get the best offer.
10. Protect yourself online with a VPN service
Why you should do this
We're always on our phones and devices and connecting to "free" WiFi wherever we go. With that freedom comes the real possibility that hackers can break in and see your online activity, thus exposing sensitive passwords and information that can be stolen and used without your knowledge. This can have massive financial ramifications if that information is used to open up credit cards or other loan products in your name.
I admit, I'm pretty technologically clueless at times, and the entire concept of using a VPN (virtual private network) went over my head when they first came out. But then the major Equifax data breach happened and I became concerned that my data and identity could be stolen.
Identity theft affects millions of people a year: 7-10% of Americans are victims of identity fraud each year, according to the Center for Victim Research. And this is costing tens of billions of dollars a year.
So how does a VPN help protect you? Good question. A VPN allows you to create a secure connection over the internet. It can also allow you to choose which country you want to access. You can be like myself, for example, living in Italy but using a VPN access point in the US. This is especially helpful when you travel because many websites have security measures that won't allow you access them if you're in a country different from where you live. With a VPN, you can work around that issue. Finally, VPN's are cheap.
Where you can get help
The one I currently use is NordVPN, which can cost as little as $3.71 per month. It was highly recommended by techy friends and I've been happy with it.
11. Keep sane during tax time with help from tax prep software
Why you should do this
Honestly, this one is about your time and sanity. Tax laws change every year and requirements are so tedious that most people need help. If it's near tax time and you don't have a CPA to do your taxes, then you should really consider using online tax prep software.
I used to use TurboTax when I first started working out of college and didn't yet have a complicated tax situation. I personally believe you will save 10 times the cost of the program on tax deductions you didn't know you could get. Most services, including TurboTax, have a free version if your tax return isn't that complicated.
Where you can get help
TurboTax is by far my favorite tax prep software. TurboTax comes with customer support, which is a big bonus. Oftentimes, when you use a tax prep tool, it's going to ask you questions — and it's easy to get stuck and confused. With TurboTax, you can call and ask them for help, quickly get unstuck and get your return done and your tax refund back in your hands quickly!
Did you enjoy these steps? Let me know how they helped you and if you took action. You can reach me on Twitter or Instagram.
AND come check out now for FREE – our First Time Homebuyer Challenge.
This brand new program will teach you the 5 Critical Steps of the Home Buying Process.
You'll learn how to build an emergency account, get your credit score up and protect it, get a mortgage, tackle credit card debt and work with a realtor. It's created by me – with five days of video coaching, mentoring and great tools to help you take action. All FREE. Click here to get access.