Quick reads...
27-Year-Old Who Bought Her First Home During the Pandemic Shares Her Best Advice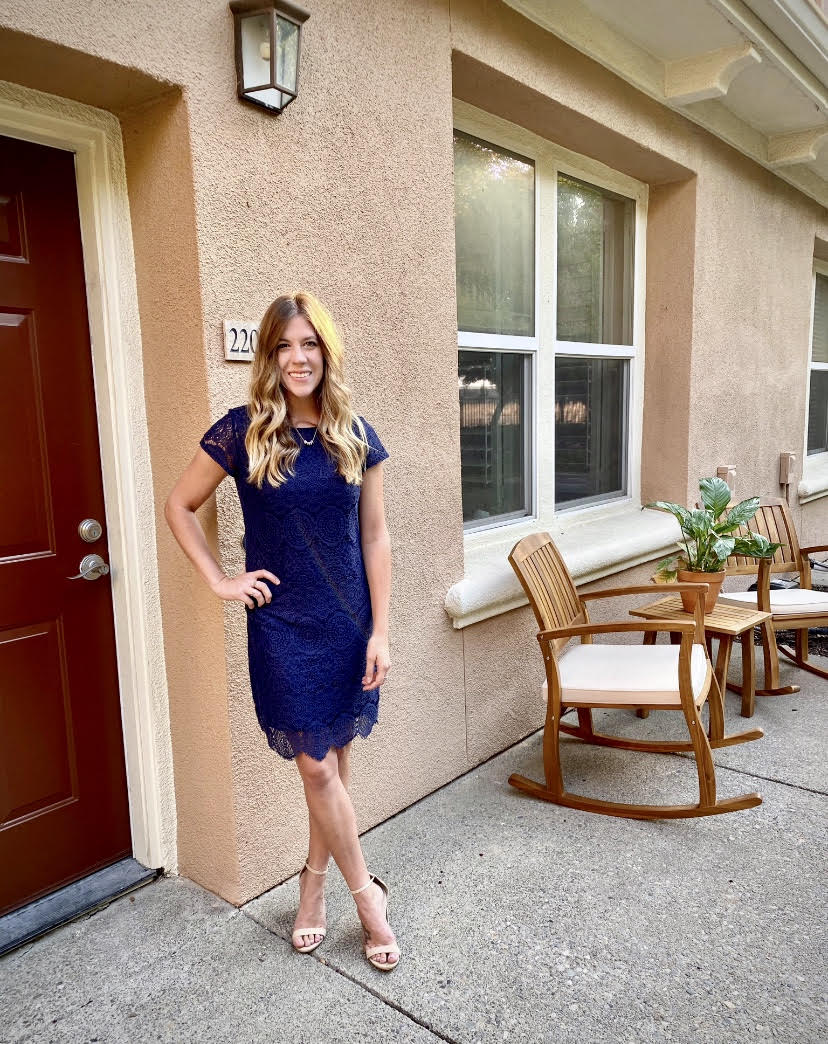 27-year-old Hannah Addington bought her first home in just a week — and she did it during the early stages of the Covid-19 pandemic, with nearly $70,000 worth of student loans and less than $6,000 in the bank.
"I read 'The Automatic Millionaire Homeowner' on a Friday and literally seven days later I was in escrow," says Addington, who officially closed on a $285,000, three-bed, 2.5-bath condo in the spring of 2020. "It was crazy. I'm still surprised that it all happened the way it did."
The book, written by personal finance expert and author David Bach, inspired the millennial to stop renting and become a homeowner. "I could not put it down," says Addington, who was renting an apartment in Sacramento, CA at the time. "I was overwhelmed with motivation to buy a property. Even if my financial situation wasn't ideal, I was going to find a way." 
After going from renter to owner, here are her five best tips for prospective homebuyers.
1. It's never too early to start looking
Regardless of your timeline, start looking at properties now, suggests Addington: "It's never too early to look on Zillow or Redfin. Spend 30 minutes a week just getting an idea of the properties that are out there so when you are ready to buy, you have an idea of where you want to look." 
While you're at it, start looking up average house prices in specific locations you have your eye on. Then, you can work backwards to figure out how much money you'd need to save for a down payment.
2. Pay attention to your credit score
While experts suggest you start saving for a down payment even years before you're ready to buy, it's not essential that you have thousands of dollars in cash saved up to become a homeowner. Addington is living proof. She couldn't save much for a down payment because of her student loans, but she did the next best thing: She monitored her credit score.
It ended up being very beneficial: "I was lucky that I paid attention to my credit score over the last several years because I think that helped me get a lower interest rate," says the new homeowner, who scored a 3.625% interest rate on a 30-year fixed-rate mortgage.
If you can't afford to fund a home savings account right now, take this time to work on your credit score. Building your credit will pay off later on when you're shopping for a mortgage because a better score makes it easier to qualify for a mortgage and get the best rates and terms. 
3. Be willing to make sacrifices
Addington set realistic expectations when shopping for her home. After looking at listings on Zillow and Redfin, she knew from the get-go that she wouldn't be able to afford living in downtown Sacramento, where she was currently renting, so she started looking in suburbs outside of the city. 
"It's OK to sacrifice location," she says. "When you're young it can be nice to live in the downtown area, but for your first home, sometimes that's not realistic."
With homeownership, you start small and work your way up. Your first home won't be your dream home — but buying that first home is what will one day help you buy your dream home. That's because owning real estate can help you build lasting wealth. Consider this stat from the Survey of Consumer Finances: The median net worth homeowners is more than 44 times the net worth of renters.
For your first home, what's important is that you stick to a budget you can afford. You can read about that in more detail here. For now, here's a good rule of thumb from the Federal Housing Administration's (FHA) guidelines for home-buying: Spend no more than 29% of your gross income on housing if you have other debt. If you don't have any debt, you can safely spend even more — up to 41% of your gross income. Keep in mind that this percentage includes more than just your mortgage payment: It includes all housing-related expenses, from insurance to property tax to maintenance. 
You don't want to buy more than you can afford and end up with a payment that stretches your budget thin each month, making it impossible to meet your other financial obligations. Buy what you can afford, even if it means sacrifices. It will pay off in the long term.
4. Comparison shop lenders to get the best deal
One part of the homebuying process Addington says she'd do differently is spend more time comparing lenders. "If I had more time I probably would have shopped around a little more because I think my loan origination fee was a little bit higher than other lenders," she says. 
Still, she got a pretty good deal with her 3.625% rate, partly because she used her network to her advantage: "This specific lender had an affiliation with UC Davis and, as a UC Davis alum, I was able to get a little bit of a discount going through this lender." That's higher than the current average on a 30-year FRM (2.7%, as of February 2021), but still a great rate to have locked in for 30 years.
Ideally, you want to call up at least three to four mortgage lenders to compare rates and terms. This is really the only way to ensure you're getting the best deal. Think about it this way: When you go out to make a major purchase, like a car or big appliance, you don't simply walk into the first showroom you see and accept the first price the salesman quotes you. A good shopper goes to a number of different stores, compares offers and even plays competing retailers against each other. You can do the same when shopping for a mortgage.
If you don't know where to start, check out Finishrich.com's top-recommended mortgage lenders.
5. Take action
Addington's final piece of advice for prospective homebuyers: "Just do it. Get in the right mindset and just go for it and trust the process."
The sooner you make the leap, the sooner you'll be on your way to building wealth. As Bach emphasizes in his book, the renting path leaves you poor: You'll have a recurring monthly expense and no asset. The only person profiting is your landlord because your rent payment is going toward buying his or her building. The ownership path, on the other hand, leaves you in control of a significant asset, more wealth, better financial security and no more rent payments.
As a homeowner, you'll be in control, meaning you have options. You can rent out part of your property to build even more wealth. That's what Addington is doing: She's actually lowered her monthly housing expenses since buying her condo and is paying about half of what she was paying as a renter. Her mortgage costs more than what her rent cost, but she's able to rent out two of the bedrooms in her three-bed condo and save hundreds of dollars a month.
Owning presents more options for your future self. And there's never been a better time to buy than right now. Interest rates are historically low: In February 2021, the average interest rate on a 15-year fixed-rate mortgage is 2.21%. The 30-year fixed-rate is 2.73%. To put that into perspective, last February, the interest rate on a 15-year FRM was 3.84% and, on a 30-year FRM was 4.41%.
The bottom line: You can take out a loan for an insanely low cost right now, which makes owning your home more affordable than ever. And with a fixed-rate mortgage, you can lock in that low rate for up to 30 years. 
Still on the fence about buying? Check out David Bach's First-Time Homebuyer Challenge, which is a free, five-day online course designed to help you learn the five critical steps of the home-buying process, from how to raise your credit score to how to get pre-qualified for a mortgage. 
If you're still renting, this challenge can help you prepare to buy your first home. Your first home may be closer than you think!
Read next: This 27-Year-Old Bought a Home in 7 Days With Less Than $6,000—Here's How