Quick reads...
Millennial Who Bought Her First Home With Less Than $6,000 Shares the First Step She Took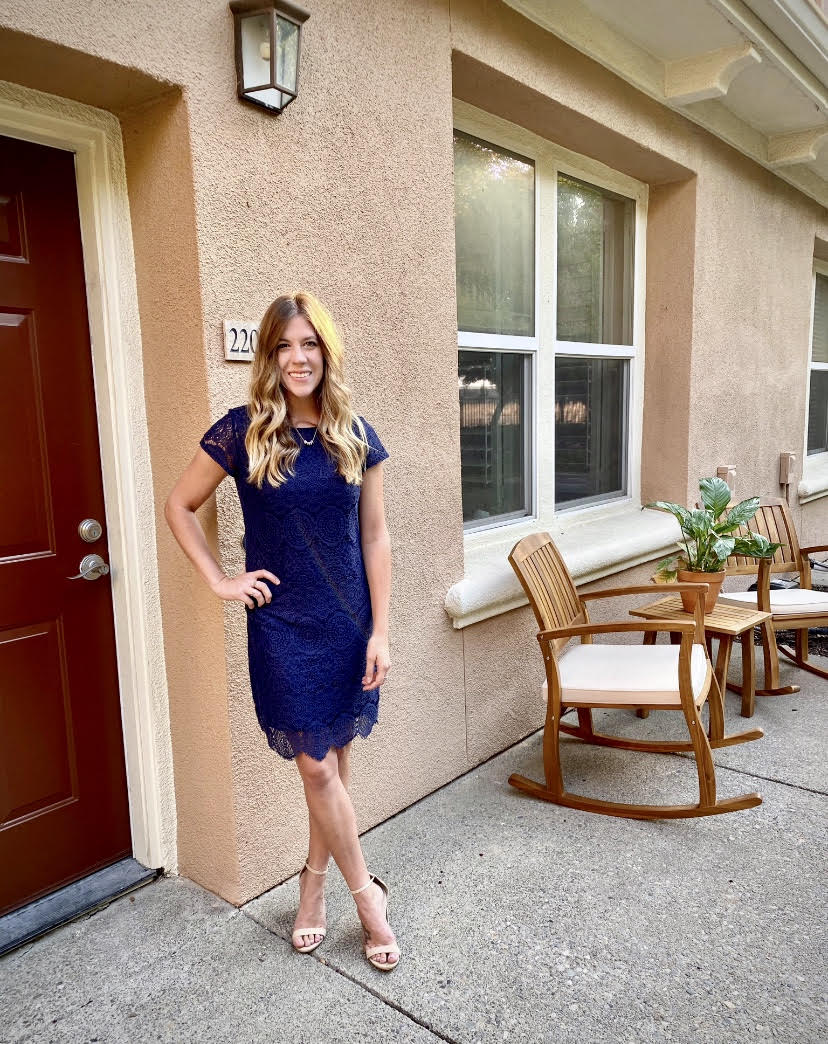 Hannah Addington always dreamed of buying a home. But the 27-year-old didn't think it was an attainable short-term goal, considering her financial situation: She racked up nearly $125,000 worth of student loans between her bachelor's degree from UC Davis and her master's in nutrition and dietetics from Saint Louis University.
Addington finished up her master's degree in 2017 and has been focused on paying down her loans ever since (she still owes about $68,000), meaning she hasn't had much left over to put towards other savings goals. That's why the Sacramento-based millennial assumed buying a home was out of the question.
But then she read a copy of my book, "The Automatic Millionaire Homeowner," this spring. She started it simply as a way to pass time during quarantine. Little did she know, a week after picking it up, she'd be a homeowner. 
"I read it on a Friday and literally seven days later I was in escrow," says Addington, who officially closed on a $285,000, three-bed, 2.5-bath condo about a month after being in escrow. "It was crazy. I'm still surprised that it all happened the way it did."
And, she did it with barely anything in savings. In fact, she paid just $5,900 out of pocket during the whole process, but more on those details later.
I've been saying this for years, but anyone can get in the game of homeownership. You don't have to be rich to buy a home. You don't even have to have much money in your bank account to buy a home — and Addington is living proof!
Let's rewind. How did she become a homeowner without much cash on hand — and how can you do it too? The first step she took after reading my book was to research lenders and understand the options out there for someone in her financial situation.
"I knew I had to get creative with financing," says Addington. "There was no way I was going to be able to make a down payment and cover closing costs with what I had in my bank account."
After a quick online search, she found a first-time homebuyers program through CalHFA (California Housing Finance Agency) that would allow her to buy a property with no down payment and minimal closing costs. She then researched CalHFA approved lenders in her area, set up a consultation with one and submitted all the necessary paperwork to get pre-approved for a mortgage. She did all of the research in one day and was pre-approved just a couple days later.
One thing she says she'd do differently is spend more time comparing lenders, which is something I highly recommend. Ideally, I want you to call up at least three to four mortgage lenders to compare rates and terms. This is really the only way to ensure you're getting the best deal. 
"If I had more time I probably would have shopped around a little more because my loan origination fee was a little bit higher than other lenders," says Addington. "But I ended up getting a 3.625% interest rate [on a 30-year fixed-rate mortgage], which I'm happy with for not having very much money down." That's higher than the current average on a 30-year FRM (2.81%, as of February 2021), but still a great rate to have locked in for 30 years.
She was also able to use her network to her advantage, she notes: "This specific lender had an affiliation with UC Davis and, as a UC Davis alum, I was able to get a little bit of a discount going through this lender." 
As for the down payment, Addington didn't have to put up any of her cash right away. The CalHFA program covered an $8,565 down payment (3%) through a junior loan program. She doesn't have to make payments on it until the end of her loan (or if she refinances or sells the property). The interest rate on her down payment loan is 2.5%.
In total, she paid just $5,900 up front: $2,800 in earnest money (a "good faith deposit" you put down to show that you're serious about buying a home) and $3,100 for closing costs (she also received a $1,000 closing credit from the seller). She was able to come up with the money thanks in part to the fact that federal student loan payments are on hold in response to the pandemic. "I stopped making those payments from March to June, so I was able to save for my closing costs," explains Addington. "So that was a huge advantage to buying during Covid-19."
A crucial step in the homebuying process is getting the financing right, which Addington did. Reading her story should encourage you, no matter what your current financial situation is, that buying a home may be more possible than you thought.
The number one misconception that holds people back from buying a home is that you need to come up with thousands or tens of thousands of dollars in cash to make a down payment and get a mortgage. Sure, if you have enough cash on hand to put 20% or more down, great! But if you don't, that shouldn't stop you from buying a home, which is what is going to help you build real wealth down the line.
Addington is not only building equity in her home right now, but she's actually lowered her monthly housing expenses. As a homeowner, she's paying about half of what she was paying as a renter! Her mortgage costs more than what her rent cost, but she's able to rent out two of the bedrooms in her three-bed condo, "so I'm actually saving money on a monthly basis by buying a home," she says.
If you're on the fence about buying, I recommend you take her advice: "Just do it. Get in the right mindset and just go for it and trust the process."
Now, check out my free First-Time Homebuyer Challenge. You'll learn how to build an emergency account, get your credit score up (and protect it), qualify for a mortgage loan, tackle credit card debt and work with a realtor. It includes five days of video coaching, mentoring and great tools to help you take action. This is the same class that Hannah watched, learned from and loved.
Check out my top recommendations for mortgage lenders