Quick reads...
How To Figure Out if You Need A Financial Advisor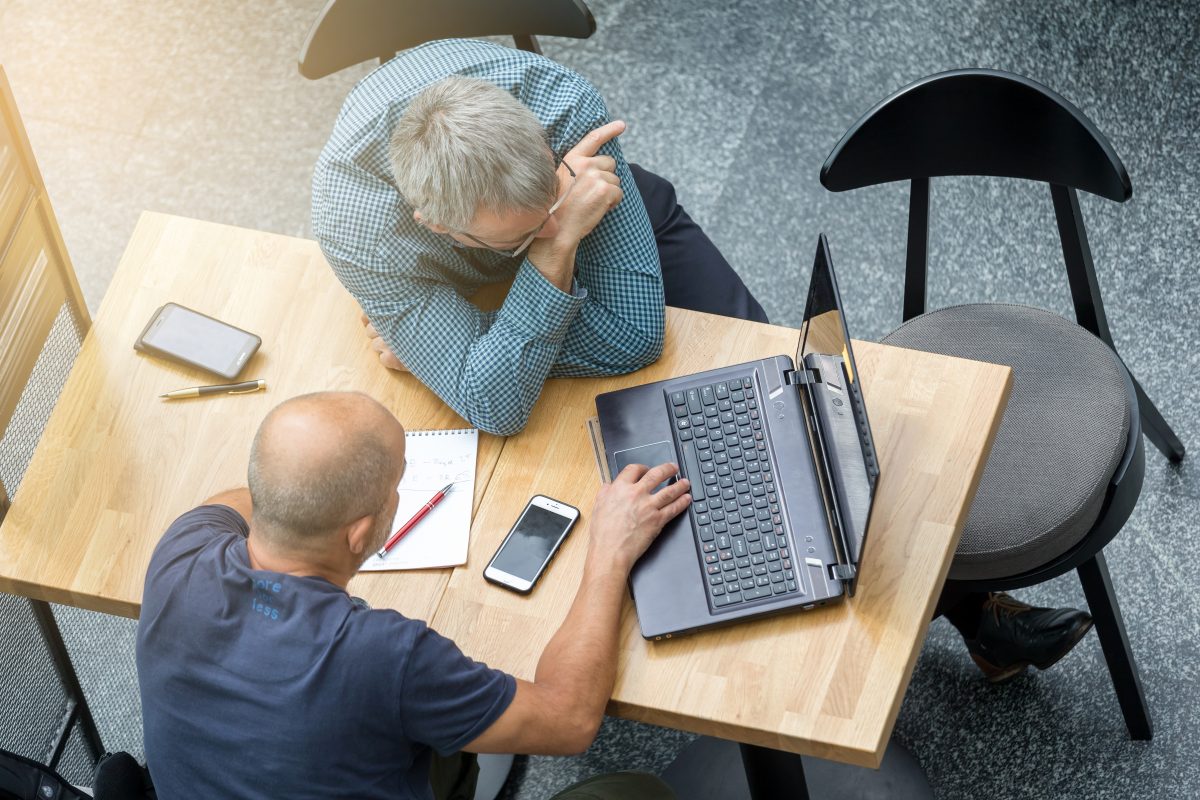 The majority of Americans don't have any help when it comes to managing their money. Just 25% of adults in the U.S. report using an advisor or online service to help with their finances.
That's partly because of the cost barrier that's been created in the wealth management industry. Historically, financial services companies have only worked with people who have a lot of money — usually hundreds of thousands or millions of dollars in investable assets. And most Americans don't have that kind of wealth. 
Thanks to technology, though, financial planning is starting to become more accessible to mainstream America. Working with an expert is more affordable than it's ever been.
Read on to find out if it's the right move for you. 
The main benefits of working with a financial advisor
Hiring the right financial advisor is one of the smartest ways you can spend your money — it has to be the right person, but more on that later. Here are three of the biggest benefits that come from working with an expert:
You can reach your financial goals faster.

Many advisors will provide you with a personalized financial plan that can help you reach all of the money goals you haven't started chipping away at yet. Over time, as you build a relationship with your advisor, they'll further understand your dreams and ambitions and can help you achieve them.

It'll save you time and stress. Money is complex and most of us aren't taught personal finance in school. An advisor can help you navigate complex financial situations and tough money conversations with family. They'll advise you on everything from estate planning and tax laws to retirement planning and how to start investing.
An advisor will help you avoid costly mistakes.

Besides ensuring you follow through with your financial plan, the right advisor can help you avoid major money mistakes, like panicking and selling your investments when the market goes down suddenly. They can also prevent you from making risky investments that could derail your financial future.
Signs you need a financial advisor
A common misconception is that you don't need to hire a financial advisor until you're close to retirement. But there's no age or career point at which it becomes "the right time" to work with a professional. 
Oftentimes, people really need financial planning in their 20s, 30s and 40s — when they're juggling saving for retirement and paying down student loans or credit card debt with major purchases like their first home or car. 
Here are six signs you should work with a financial advisor.
1. You recently experienced a major life change
This could be a variety of things: you're newly engaged, you just got married, you're going through a divorce, you're about to start a family, you're applying to grad school, etc. 
If any of those scenarios apply to you, consider hiring an advisor. After all, a major personal change is going to affect your finances — and will probably complicate them.
You're going to face big questions: How do you combine your finances with your partner? Do you need to get a prenup? How will your assets get split up if you're getting a divorce? How do you budget for major, upcoming expenses like childcare or education? An advisor can help you answer all of those and more.
2. Your wealth increased significantly
If you get a major salary bump from a new promotion or job, or if your net worth spikes from a big inheritance, you should consider working with an advisor. They'll help you figure out the smartest way to handle your extra money, advising you on how much of it to spend, donate and invest — and where to invest it. Plus, they'll make sure you don't spend it all. 
If your pay bump puts you in a higher tax bracket, an advisor can also help you find ways to save on your tax bill.
3. You feel behind on your retirement savings
Do you feel unprepared for your golden years? Are you unsure how much money you need to last through retirement? Are you struggling to save enough? 
If you don't feel on track, an advisor can help you get to where you need to be.
Retirement is a long-term goal that requires careful planning. It's important to have a "retirement number" in mind, which depends on when you want to retire and what you want your lifestyle in retirement to look like, and a clear plan in place that will get you to that number. If you need help with the planning process, consider hiring a financial advisor.
4. You tend to panic when the market dips
If you get cold feet whenever there's a downturn in the market and think about (or actually do) pull your money out, you need someone who will keep your emotions at bay, provide objective advice and remind you to stay the course. 
The stock market experiences declines, which isn't fun to deal with, but it's normal — and there has never been a declining market that has not ultimately recovered. If you pull your money out of the market during a downturn, you may miss the recovery. 
A solid advisor will help you remember that it pays to stay invested. It's expensive to panic.
5. You and your partner don't see eye-to-eye when it comes to money
Money problems are a leading cause of divorce. If money is causing any levels of stress in your relationship with your partner, it's worth it to hire a financial advisor. Without one, you could be arguing about money for the rest of your lives.
Especially if you and your partner have completely different values and beliefs around money, an advisor can help you sort through issues and teach you how to work as a team, rather than as two individuals.
6. You continually put off important money decisions
Maybe you know the importance of having an emergency fund, but keep telling yourself you'll build it up next month. Or, maybe you understand how compound interest can make you rich over time, but you don't know how or where to invest your money. Perhaps you have aspirations to buy a house, but haven't gotten around to setting up a savings account for the down payment.
If you tend to delay important money moves like these, it might be time to pay for an advisor who will not only help you take action but will help you make the smartest possible decisions.
Financial planning is an investment in your future
Maybe you read through the six scenarios above and at least one of them applies to you, but you're still hesitant. After all, advisors are expensive, right? Well, yes and no. 
It's important to think about hiring a financial advisor as an investment in your financial future, stresses Brent Weiss, certified financial planner and co-founder of Facet Wealth: "Most people think, I can't afford it. It's going to cost too much," he tells Finishrich.com. "But if you find someone who is going to give you quality, personalized, unconflicted advice, that's an investment you're making in yourself today and your future self."
The only cost, he emphasizes, is the cost you incur by putting off financial planning. "If you don't pay down your debt soon enough, if you don't start investing, if you don't understand budget and cash flow, there's a cost to that — and if you wait a couple of years, it can dramatically change your financial path in the future."
So, yes, you're going to pay upfront for professional advice, but the long-term benefits will far outweigh the cost, he says. 
"Quantifying the benefit can be hard," Weiss notes. "If you go buy a physical product at Amazon, something shows up on your front stoop the next day. The immediate gratification factor is hard when it comes to financial planning — we're asking you to start paying down debt and start saving, and you'll see the benefit in 12 to 36 months — but when you look back after a few years, you're going to think, Holy cow, am I glad I started."
Even if you're excellent with managing your own money, hiring a professional could be a worthwhile investment, he notes: "I've had some clients who are financially literate and have the tools, resources and education to manage their own money. They're very smart and capable people — they just don't want to spend their time thinking about cash flow, estate planning or insurance. They'd rather spend more time building their business or working on their side gig or with their friends and family.
"You have to start thinking about what the value of your time is."
How technology is making financial planning more accessible
Today, pretty much anyone can use what's called a "robo-advisor," which is the simplest (and most affordable) type of financial advisor. Robo-advisors will build a diversified investment portfolio for you based on information you provide them about things like your money goals and risk tolerance. Robo-advisors will also automatically rebalance your portfolio when necessary.   
You won't be working with an advisor face-to-face or getting a financial plan, but using a robo-advisor an affordable way to get help with your investments. Most robo-advisors, including Betterment, Wealthfront and Sofi, require small minimums to get started (and in some cases, no minimums at all) — and the fees are low. 
Like many financial advisors, robo-advisors usually charge based on how many assets they manage for you. While a typical, in-person advisor charges 1%-2% of assets under management (AUM), robo-advisors charge between 0.25% and 0.50%, and some don't charge a fee at all. The reason they're so much cheaper is because everything is done online. 
If you're looking for more specific guidance from a professional or want a personalized plan, that's when you'll want to go beyond using a robo-advisor and hire a professional — and thanks to companies like Facet Wealth, this type of planning is also becoming more accessible. 
Facet offers virtual financial advising from certified financial planners (these are professionals who have earned a CFP certification by completing specific education, training and exams), meaning you'll work with your planner over video and phone calls. What sets Facet apart is that there's no minimum balance requirement. (Remember, most traditional advisors won't work with you unless you have at least $250,000 in investable assets.)
The fee structure is different from that of a typical advisor, too. Facet charges a flat fee, rather than charging based on assets under management (AUM) or collecting any commissions. The annual fee ranges from $1,200 to $6,000, depending on your financial life stage and financial complexity, and they hope to eventually lower it even more by leaning into technology. After all, their mission is to make high-quality financial planning available to everyone.
Other financial advisors charge affordable, flat fees, by the way. There's a new wave of professionals that are emerging, Weiss tells Finishrich.com: "They're in their 20s, 30s and 40s, and the good ones are charging appropriate, flat fees. They're doing it right … And I want to work with them. We can't do this alone. There are 125 million households in this country, and almost 100 million of them don't have access to high-quality advice. That's a lot of people."
What type of financial advisor to hire
If you're ready to take the next step and work with an expert, it's important to understand that there are a bunch of different types of advisors out there. Choosing the right one for you depends on what you need and your budget.
There are three main categories of financial advisors:
1. Robo-advisors
Again, this is the simplest (and most inexpensive) type of financial advisor. Robo-advisors use an algorithm to build a diversified portfolio of low-cost funds fit for your situation based on your goals, time horizon and risk profile. They also automatically rebalance your portfolio for you. 
Who does a robo-advisor make sense for? This is a good option for someone who just needs help choosing and managing their investments. It's simple, hands-off and affordable. Just keep in mind that if you go this route, you're mostly getting investment advice — you're not getting a comprehensive financial plan from a human advisor.
2. Virtual financial advisors
A virtual advisor is just as it sounds: You'll get access to a human advisor, but will work with them online (through video chats, email or phone). Because everything happens online, it'll be less expensive than hiring a traditional, in-person advisor.
Companies like Vanguard and Personal Capital are offering online financial planning services, but the account minimums can be high. Vanguard's minimum is $50,000, while Personal Capital's is $100,000 (though, that's lower than what you'll likely see with a traditional advisor). 
These companies typically charge AUM fees that are lower than what a traditional advisor charges. Vanguard, for example, charges an annual management fee between 0.05% and 0.30%. The fee depends on your assets under management (the more the assets, the lower the fee). Personal Capital charges an AUM fee between 0.49% and 0.89%.
Facet Wealth also provides virtual financial planning, but with a different fee structure (a flat fee between $1,200 and $6,000) and no minimum balance requirement.
Who does a virtual financial advisor make sense for? If you're looking for more than automated portfolio management, which is essentially what robo-advisors provide, but can't afford a traditional financial advisor, this is an excellent "in-between" option if you don't mind meeting with your advisor virtually. You'll get similar services to what a traditional advisor would provide, but at a cheaper price.
3. Traditional financial advisors
Finally, the highest-cost option is a traditional financial advisor — a professional who you can meet with in-person and will advise you on everything from retirement planning and what type of life insurance to buy to how to navigate annuities and other more complex personal finance concepts. If you go this route, ideally, you'll work with a certified financial planner (CFP) professional or a registered investment advisor (RIA), as they're both bound to the fiduciary standard and required to keep your best interest in mind.
Expect to pay between 1-2% of your assets under management with a traditional advisor, though some may charge a flat fee (between $1,000 and $8,000) or hourly fee (between $100 and $400). Also, expect a hefty account minimum. 
There are also advisors who earn commissions. With commission-based advice, your advisor can make money whenever they sell you certain securities, annuities or other insurance products — and their earnings, which can be anywhere from 1-6% of your investment, come straight out of your wallet.
Who does a traditional financial advisor make sense for? If your financial situation is really complex and you want the ability to meet with an advisor in-person, this might be the right choice for you if you can afford it. Of course, you want to make sure you hire the right type of financial advisor — someone who is putting your best interest first, which means hiring a fiduciary.
Tips for finding a good financial advisor
Not all advisors are created equal. You want someone who has your best interest in mind — someone who asks what's important to you and what your goals are, and then helps you get there with individually tailored advice.
Here are three tips for finding a smart, trustworthy advisor.
Do your homework.

To find a great advisor, you have to put time and effort into researching your options. Start by looking up advisors in your area using The Financial Planning Association's

website

, The National Association of Personal Financial Advisors'

website

and The Certified Financial Planner Board of Standards'

website

. Once you have a few names, you'll want to look into their background using

BrokerCheck

, a site run by

FINRA

(Financial Industry Regulatory Authority). You can type in the name of the advisor or firm you're considering and it'll tell you everything you need to know about their education, work and business history and licenses held and in what states.

Ask the right questions.

After you've done your research and picked out a few strong candidates, it's time to meet with them. Come prepared to this introductory meeting with specific questions, including: What are your certifications? What type of clients do you specialize in? What's your investment philosophy? How do you charge your clients?

Work with a fiduciary.

The fiduciary duty is a legal requirement. It requires your advisor to put your interest first and disclose potential conflicts of interest. You don't want an advisor who recommends an investment to you because he or she would get a higher commission from it. You want an advisor who is focused on what is best for you and who is completely transparent. To be sure you're working with a fiduciary, ask your prospective advisor straight up: "Are you a fiduciary? Are you legally required to act in my best interest?"
For more information, read our complete guide to choosing a financial advisor.